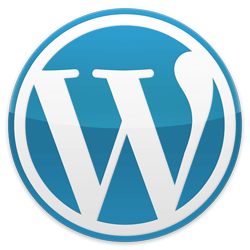 If you are considering setting up a website, a content management system should be on your list of "must have" items. Content management systems (CMS) allow you to add, modify and delete content without contacting your web designer or learning HTML. WordPress is one of the best CMS software platforms for designing, building and managing your website.
Originally introduced as blogging software, WordPress has added functionality that makes it practical to manage any type of business website. Here are thirteen reasons to use WordPress for content management.
It's free. You can download WordPress software from their website for free. It's also included with most web hosting packages. To see how easy it is, check out these videos for installing WordPress on two popular web hosts, Blue Host and Dreamhost.


Quick and easy installation. Most web hosting companies have a one-click WordPress installation. If yours doesn't, you can follow their 5-minute installation tutorial.


Easy to use. The WordPress administrative section (called the "dashboard") is simple and intuitive to use. You don't need to know any type of programming languages to use the basic features.


Easy to update. You can update your content anywhere in the world as long as you have an internet connection. You can easily add, update or delete content (texts, images, audio, video, PDFs, spreadsheets, etc) through a simple online form.


Easy to manage. WordPress notifies you automatically if upgrades are available. To upgrade the software, you just click a link, enter your username and password, and the software takes care of the rest. The WordPress developers launch new updates every few months to constantly improve features, security, and functionality.


Easy to customize. WordPress has many features that you can customize to fit your needs. Widgets allow you to include links, advertisements, and other features in your sidebar. Themes allow you to update your visual design with the click of a button. The unlimited number of plugins available allow you to add features like members only sections, contact forms, social media links, extensive contact forms, e-commerce, and virtually anything else you can think of.


Many design options. Your "theme" is your visual design. It's what visitors see when they visit your page. WordPress has thousands of free themes to choose from. Many companies have created "premium themes" you can purchase usually for less than $100. Or you can have a web designer create a custom theme for your site.


Easy to add features. Plugins are tools that add extra features to your site. There are thousands of free plugins to choose from and they are easy to install. You simply go into the "Plugin" section of the admin section, upload your file, and click a link to activate it. To give you an idea of the extensive list of plugins available, you can use plugins to create a sitemap or contact form, optimize your site for search engines, promote your site through social networking, back up your database, check broken links, add members-only content, manage a forum, add content from other sites, and much more.


SEO-optimized. WordPress has many SEO features built into the software and a number of plugins are available to further SEO-optimize your content. You can create seo-friendly URLS with the "permalinks" options, add keywords to titles and metatags, and "tag" your posts with keywords.


Pages and posts. Pages are used for content that isn't updated regularly. They are ideal for pages like "About Us," "Products," "Services," and "Contact Us." Posts are used for content that you update regularly, such as blog posts, articles, press releases, and recent news.


Reader interaction. Both pages and posts allow you to enable comments so your readers can leave feedback.


Benefits of blogging software built in. Because WordPress was originally designed for blogs, it comes with features like trackbacks (when you link to someone else's blog, WordPress automatically notifies the website), auto scheduling (you can write blog posts and schedule them to publish at a future date), and RSS feeds (people can subscribe to your contents through a news reader like Google Reader).


Large user community. WordPress is extremely popular and has a large community of users and developers who answer questions on forums or write about features on their blogs. If you have a question or problem, a quick Google search or post to the WordPress forums is usually all it takes to receive an answer.
With so many benefits, WordPress is a quick, easy way to build a user-friendly, affordable business website and manage your web content. If you are still on the fence about using WordPress, visit OpenSourceCMS's online WordPress demo to try out the software for yourself.