Many service providers think the key to differentiating their services is to come up with catchy slogans and taglines they can use in their marketing materials. If it works for TV commercials, why shouldn't it work for you?
How Madison Avenue Measures TV Commercial Success
The biggest issue with clever slogans and taglines is that they are designed for TV commercials you'll hear 30 times per week. That's why we know Coke is "the real thing" and Wendy's asks "where's the beef?" and Nike encourages to "just do it."
Those slogans don't say a lot because if the TV commercial does its job, it will explain the meaning of the slogan. The slogan is designed to be memorable – so it sticks in your head and you remember the commercial when you're ready to buy their product. Many times, they make that slogan into a jingle to make it even more memorable. If they can get it stuck in your head, they think that will get you to buy more of their stuff.
How well it works is negotiable. The Madison Avenue executives who design TV commercials don't really have to show that their commercials are directly influencing sales. They just examine the year's revenues – and if there was a blip upwards, they declare that the commercial worked. If they made less money, they assume the ad didn't work. Of course, there are all sorts of factors that might come into play that they don't track, but for the most part, that's how it works.
What Really Happened to the Taco Bell Chihuahua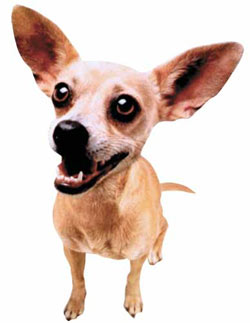 And even if something seems popular, that doesn't necessarily mean it is driving sales. You might remember the Taco Bell Chihuahua who used to say "¡Yo quiero Taco Bell!" That little dog made its debut in 1997 and immediately became a cultural phenomenon. They made all sorts of TV commercials featuring the adventures of the Chihuahua and even started selling toy dogs because people loved it so much.
Yet, as much as people loved this ad campaign, it didn't help Taco Bell's bottom line. By 2000, Taco Bell sales were down considerably, and the company decided to abruptly end the ad campaign and try something else.
The funny thing is that once they did that, rumors started flying all over the internet that the dog had died and that's why they stopped running the commercials. Most people thought that ad campaign was a huge success, so the only reason they could think of for why Taco Bell stopped running the Chihuahua commercials was that something must have happened to the dog.
So, just because you see something witty or clever or entertaining on TV, doesn't mean it's actually effective in increasing sales.