A few days ago, I noticed traffic to one of my sites had decreased to a trickle. Sensing something was wrong, I clicked to the site only to be notified: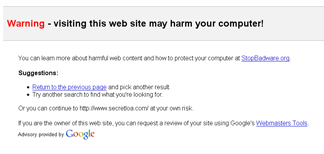 After browsing through the StopBadware site, I determined I must have some malicious code somewhere on my website… Sure enough, at the very bottom was a strange block of code pointing to some foreign site.
This type of hack is more common than you think, so if this happens to you, here's what to do to regain your Google rank:
Remove all traces of the bad code. If you aren't tech savvy, find someone who is – a tech guy, your web host, someone from Elance.com – and get them to pour through your code.


Change your passwords. I admit, the password I was using for that account was pretty weak, so I guess it was pretty easy for a hacker to figure out with the right software. Make sure your passwords contain letters and numbers – and if you want to be extra random, try PCTools' Random Password Generator.


Check Google Webmaster Tools for warnings. Google has lots of helpful tools for Webmasters under their Webmaster Tools section. If you registered your site previously (which you should!), Google might provide you with the following warning:





Request a review. Once you are sure all the malware code has been removed, click the "request a review" link to notify Google you've taken care of the problem.
If all goes well, your site should be re-included in the normal Google search results within a few days.