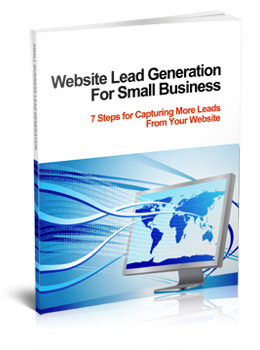 This report will show you how to create your website lead generation strategy in 7 easy steps!
Is your website generating leads for your small business? If not, you're not alone. One of the most frequent issues I hear from clients is "I'm getting visitors to my site, but no leads. What am I doing wrong?"
A website is only one key element of a comprehensive online lead generation strategy – and the unfortunate truth is: just because you build it doesn't mean they will come… or buy from you.
My new report, "Website Lead Generation for Small Business: 7 Steps for Capturing More Leads From Your Website" provides you with step-by-step methods to help You drive more traffic to your site, capture leads, and convert those leads into paying clients.
A Step-by-Step Website Lead Generation Blueprint…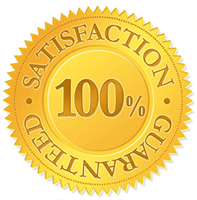 60-Day Money Back Guarantee
Getting traffic is the easy part. Converting visitors into leads is much harder. My guide reveals everything you need to know to start generating leads from your website. These are real world techniques I use on my own websites – and with my clients. Here's what you'll discover when you sign up to get your 109-page report…
Why most websites don't generate leads
the 4 components of a lead generating website
5 essential elements of professional site design
7 ways to use your website to build trust with prospects
free software you can use to measure your results
the #1 reason why most websites don't convert visitors into leads – and what to do about it
6 ideas for web content that grab visitor's attention
why writing web content is different from print and 10 tips you can use right now to improve your website's copy for dramatic results
how to quickly generate valuable written, audio and video content
the 4 key principles of good sales copy that persuade visitors to take action now
step-by-step instructions for designing your webpages to convert more visitors into leads
14 ideas for following up with leads
10 ways to drive more qualified traffic to your website
7 steps to improve your lead conversion ratio if you sell offline services
Your 21-day quick-start action plan for putting this system into place this month
This report gives you how-to action steps and practical strategies so you can start generating more leads from your website today.
Bonus – Small Business Email Marketing Guide<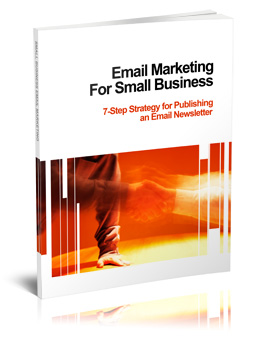 As an added bonus, I'll throw in my 39-page "Email Marketing for Small Business: Your 7-Step Strategy for Publishing Your Newsletter" guide that will show you everything you need to know about publishing a regular newsletter that your prospects not only look forward to receiving… but consider it a "must read" resource! Here's what you will learn in this guide:
6 reasons why you should consider publishing a small business newsletter
5 key fears that hold small business agents back from publishing a newsletter – and how to overcome them
5 questions you must be able to answer about your ideal subscriber base before you send your first newsletter
how to commit to a publishing schedule you will stick to
how to design your newsletter format for maximum results
10 ideas for generating newsletter content so you always have something to write about
5 key components your newsletter must include to be compliant with US email laws
how to rapidly build your subscriber base
5 key metrics to measure the results of your newsletter campaign
10 ways to increase your email response rate
What You Receive When You Order
Here's what's included when you purchase Website Lead Generation for Small Business.

Website Lead Generation For Small Business
Your 109-page copy of Website Lead Generation For Small Business in PDF format will be available for instant download.

Email Marketing For Small Business
Your 39-page copy of Email Marketing For Small Business in PDF format will be available for instant download.

60-Day Money Back Guarantee
Take 60 days to evaluate the guide. If you are unsatisfied for any reason, let us know and we will refund your money.
How To Order
For a limited time, you can buy Website Lead Generation For Small Business through the button below for only $17 $7.
To order, click on the "Buy Now" button below. You will be taken to a Paypal checkout where you can securely enter your payment information. Once you order, instructions for how to download your product will be emailed to you immediately, even if it is 3:00 am.
Paypal payments are made to Morningstar Marketing Coach LLC LLC.