This report will show you how to create your referral marketing strategy in 6 easy steps!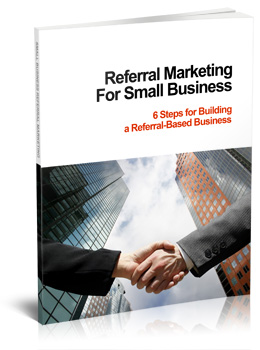 Most people start out building their business through referral. They provide great service, their clients tell their friends, and suddenly, their business fills up.
When I ask my clients how they market their services, the vast majority tell me primarily through "word of mouth." If I ask them to clarify what they are doing to attract more referrals, most can't give me specifics. They are just happy for the referrals they receive.
When I probed deeper and asked them why they didn't do more to generate referrals, I got variations of these three answers:
Fear – They didn't want to sound desperate or give the impression they would harass the referral. After all, shouldn't happy clients refer business anyway?


Poor referral quality – While they may appreciate receiving referrals, many referrals they received weren't qualified or wouldn't make good clients.


Not sure how – They had thought about ways to generate more referrals but weren't sure how to motivate their clients to send referrals when they said they would.
If any of these apply to you – but you wish your business received more referrals, my new program, "Referral Marketing for Small Business" can help.
Is This For You? Why Referral Marketing?
You probably already know that referrals are great when you can get them.
They let you "borrow" credibility and trust from your referral source so your prospect already knows who you are, what you do, and how that might help him.
They cut down on your marketing expenses because you don't have to pay for expensive advertising to get new clients.
They help you attract high-quality leads who become clients much more quickly than a guy who calls from your ads or mailings.
But trying to convince your clients to send referrals can be challenging. How do you repeatedly ask for business without sounding needy or desperate?
Rather than creating a strategic referral marketing system, most small business owners end up relying solely on "hope" – the hope that if they provide fantastic client service, people will talk about them and refer business their way.
Sure, it works sometimes. But in many cases, the referrals don't come in fast enough to sustain your business.
If this sounds like you and you want a reliable method for generating a steady stream of referrals without feeling like you are begging for business, "Referral Marketing For Small Business" is for you.
A Step-by-Step Referral Marketing Blueprint…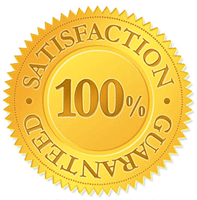 60-Day Money Back Guarantee
If you want to learn how to cultivate a steady stream of referrals to your business and get people talking, my report, Referral Marketing for Small Business, is for you. In this 65-page report, I will share with you hands-on action steps for generating referrals and give you the tools to convert those referrals into clients. Here's what you will learn:
how a systematic approach to referral marketing works
3 key reasons why you aren't getting referrals – and what to do about it
the best way to explain to referral sources who will make a good candidate for your services
how to give referral partners your "talking points" so they can promote your services for you
how a simple one-page guide is your key to more referrals
the best ways to motivate your referral sources to send you referrals
when to ask clients for referrals without sounding "pushy" or "salesy"
how to determine who is most likely to send you referrals
how to build your network of referral partners so you get referrals from multiple sources
the best ways to follow up with referrals to close the deal
4 tips for managing and following up with referrals
your real-world action plan to start getting referrals fast
This program gives you how-to action steps and practical strategies so you can start attracting more referrals now.
Bonus – Small Business Networking Guide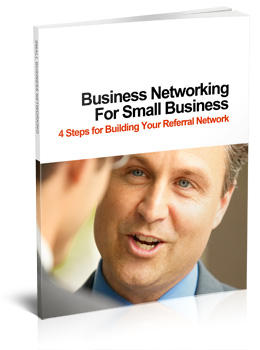 As an added bonus, I'll throw in my 36-page "Networking for Small Business: 4 Steps For Building Your Referral Network" guide that will show you how to choose the right networking events to meet people who will be good candidates for referral partners and how to start conversations that lead to referrals. Here's what you will learn in this guide:
how to network successfully – even if you think most networking events are wastes of time
5 tips for choosing networking events that are worth attending
8 ways to feel like a networking natural – even if you hate networking
how to answer the question "So, what do you do?" that engages prospects and sparks discussion
4 ways to keep the conversation flowing smoothly
what to do after the event to build trust and cultivate referrals
your real-world action plan for networking success
What You Receive When You Order
Here's what's included when you purchase Referral Marketing for Small Business.

Referral Marketing For Small Business
Your 65-page copy of Referral Marketing For Small Business in PDF format will be available for instant download.

Networking For Small Business
Your 36-page copy of Networking For Small Business in PDF format will be available for instant download.

60-Day Money Back Guarantee
Take 60 days to evaluate the guide. If you are unsatisfied for any reason, let us know and we will refund your money.
How To Order
For a limited time, you can buy Referral Marketing for Small Business through the button below for only $17 $7.
To order, click on the "Buy Now" button below. You will be taken to a Paypal checkout where you can securely enter your payment information. Once you order, instructions for how to download your product will be emailed to you immediately, even if it is 3:00 am.
Paypal payments are made to Morningstar Marketing Coach LLC LLC.