7 Steps To Creating Your Simple, Practical Business Action Plan FAST!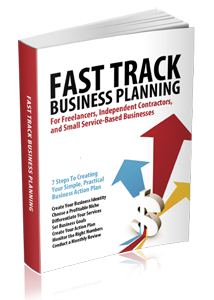 If you have been thinking about starting a service-based business or are just getting started, one of the biggest questions you may have is "Where do I start?" With so many opportunities to pursue, what is the best use of your time to start attracting and working with new clients?
As a freelancer or small service-based business owner, you may have found that most business plan books don't apply to you. They are more concerned with how to pitch an idea to banks and angel investors to get lines of credit or funding, how to spend hours researching a market, or how to project revenue for the next five years rather than how to create a practical plan.
Other books focused on "what" you should be doing but not "how" to do it. Perhaps you know you should choose a target market and differentiate your services, but you don't know how to do it. Perhaps you know you should do specific marketing activities, but you can't see the big picture of how everything fits together.
Fast-Track Business Planning addresses both the "what" and the "how" of business planning.
The "what" focuses on what needs to be done to attract clients and make money. The "how" involves project planning, budgeting, and time management.
What's the Point of a Business Plan, Really?
Planning is about controlling your destiny. It is about deciding what you want to accomplish and determining the required steps to achieve your goals. If you don't plan or set goals for your business, you end up reacting to whatever is happening around you. Planning can help you:
Develop confidence. – You are the main stakeholder in your company and its most enthusiastic supporter. If you believe it is worth investing a considerable portion of your time, money, energy and resources over the next few years, you must understand its strengths and weaknesses, cash flow, and realistic chances of success. If you can't make a case for your business success on paper, you will have a very difficult time making it work in practice. A written business plan can give you the confidence to stand behind your business even when others aren't supportive or things don't go as planned.


Communicate clearly. – A business plan helps you share strategy, priorities, and action points with your partners, vendors or your significant other. As you grow, you may need to hire employees, apply for a business loan, or develop business alliances. Your business plan can quickly explain to others how your business operates, what you sell, how you generate revenue, and who is in charge of projects.
Prioritize and focus. – Your business plan helps you determine which projects and activities will move you closer to your goals. As new opportunities arise, you can quickly determine if they are good fits for your business objectives.


Track resources. – Every business has limited time, money and personnel, and it can be easy to underestimate the amount of resources each project will consume. Your business plan will help you track costs and manpower so you will know if you can take on additional projects.


Create accountability. – When you create metrics for achieving your goals, you set benchmarks for how you will measure success. You will know if you are on track to meet the numbers or if you must rethink your strategy. When things go poorly, having benchmarks, metrics and a plan can help you break out of the status quo and move forward again because you know what to focus on and prioritize.


When you have a plan, you decide in advance where you want to be. You create a destination and you set the course for how you might best reach that destination. When things go wrong or you learn your assumptions were incorrect, you can course-correct to get back on track.
Create a Workable Action Plan – Fast!
Planning doesn't have to be a struggle or take away from your billable hours.
And for the professional service provider who doesn't need start-up capital from a bank or investors, you don't need a 50-page report outlining (or possibly guessing at) every conceivable aspect of your business.
It's easy to get bogged down in details, but when you know which elements of your business you should be focusing on, planning is fast and easy.
What if you could put together a workable, step-by-step plan to take your business to the next level within just a few hours? One that will help you prioritize and focus on what's most important, so you can stop planning and start taking action?
That's what the book, Fast-Track Business Planning, covers.
This Book is For You If…
You just started your own service-based business and don't know how to start planning for your business success.
You have been in business a few years but are struggling to bring in clients and manage your time most effectively. You'd like to put together a plan that will take your business to the next level.
You are about to conduct your annual business review and want to put together a simple business plan for the next year with milestones you can easily complete.
You know you need to plan for your business' future, but keep getting bogged down in details and never quite finish your business plan.
You've tried business plan software or business plan books but never finish them, or feel they aren't relevant to your business.
A Step-by-Step Business Planning Blueprint…
Fast Track Business Planning provides a 7-step process for attracting and working with clients.
Part 1 addresses the heart of your business, which includes who you are, who you serve, and why clients should choose you over your competitors. This section is broken into 3 main parts.
Business Identity – Chapter 2 discusses your business identity. This involves clarifying your overall vision for what you want from your business, what skills and expertise you have to offer, and how you make money.


Target Audience – Chapter 3 focuses on how to identify the best types of clients for you. To successfully attract clients, you need to get inside their heads and figure out what they want, what motivates them to buy, and which marketing strategies to use to reach them.


Differentiate Your Services – Chapter 4 concentrates on how you are different from your competitors. Why should clients choose you over all other options available to them?
Part 2 addresses how to set goals, create a project plan, and manage your finances. It also provides a framework for reviewing your progress so you stay on track.
Goal Setting and Problem Solving – Chapter 5 focuses on setting goals for your business and provides you with a framework for solving problems. Here, you decide what you want to accomplish with your business. What does success mean to you and how will you measure it? In this step, you create specific, measurable goals.


Action plan – Chapter 6 tackles the nuts and bolts of creating your action plan to accomplish your goals, complete with milestones, tasks, and deadlines.


Metrics and Numbers – Chapter 7 deals with the key metrics and numbers that determine the health of your business.


Business Review – Finally, Chapter 8 discusses how to measure your success by regularly reviewing your business.
How To Order
Fast Track Business Planning is available in 2 formats:
Paperback Book – Orders are fulfilled directly through Amazon.com.
PDF Instant Download – A PDF is available for instant download via Paypal. You will be taken to a Paypal checkout where you can securely enter your payment information. Once you order, instructions for how to download your product will be emailed to you immediately, even if it is 3:00 am.


Paypal payments are made to Morningstar Marketing Coach LLC LLC.