This complimentary 46-page Small Business Marketing Plan For Service Providers Guide will walk you step-by-step through the process of creating your marketing strategy.
Get This Free Report Today and Discover:
9 key elements of successful small business marketing
How to choose a niche
How to set yourself apart from other businesses
How to create marketing materials that capture prospects' attention
How to create a follow up system
How to develop a referral system
And more…
Let our fill-in-the-blanks Small Business Marketing Plan guide you through the entire process of writing a marketing plan.
Does Your Small Business Have a Successful Marketing Strategy?
Whether you've just started your own business, or you have a few years under your belt, this Small Business Marketing Guide is designed to help you analyze your current marketing efforts and uncover just what's holding you back.
Does This Sound Like You?
If you're like many small business owners, you hate the concept of marketing and selling. You didn't start your own business to be a marketer. You'd rather spend your time with paying clients. Marketing seems like a waste of time and money, especially when you don't know which marketing tactics to focus on or where to spend your advertising dollars.
And you certainly don't want to come across as a manipulative salesman - after all, you're a professional. If you have to market your services, you want to do it ethically and without begging for clients.
You know you should be marketing. And there are days when you gear up to do some marketing – usually when business starts to slow down.
But as soon as client work picks up, marketing returns to the back burner. You're too busy now to market your services.
You promise yourself that you'll spend some time marketing tomorrow or next week… but it's never something that has to be done today.
This Workbook Is For You If…
You just started your own business and don't know how to start marketing your legal services.


You have been in business a few years but are struggling to bring in clients. You'd like to put together a marketing plan that will grow your firm.


You feel you are wasting time and money on marketing activities that don't bring in clients, but don't know what you should be doing instead.


You hate marketing and sales but know you need to do something to attract new clients. You'd like a professional way to build your business without begging for clients or using manipulative sales techniques.
Request your free Small Business Marketing Plan today!
Just enter your name and email address in the form below and you will receive a link to download your free marketing plan in PDF format.
Here's What You Receive: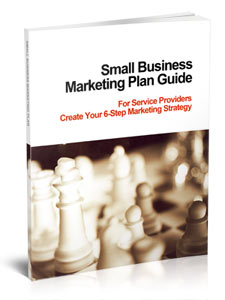 In this program, you'll learn the step-by-step strategies for creating your monthly marketing plan. If you take the time to read this guide and complete the exercises, you can put together your marketing plan in just a few hours. Here's what you will get:
45-page workbook in PDF format
5 worksheets including a two-page fill-in-the-blank marketing plan template
A subscription to our weekly Marketing Success newsletter
To request your free report, enter your
name and email address in the form below.