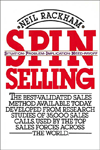 Author: Neil Rackham
Publisher: McGraw-Hill
Year Published: 1988
Rating:


Buy From Amazon.com
Marketing can only get your foot in the door. Selling is what closes the deal. Yet when most people think of selling, they think of pushy 'used car' salesmen who are only out to suck more money out of their wallets.
Neil Rackman's Spin Selling approach is about as far away from that description of selling as possible. Manipulation isn't involved. Neither are gimmicks or high pressure techniques. His approach, based upon numerous studies and years of working with sales organizations within a number of Fortune companies, outlines that good sales techniques aren't what you think.
The book is primarily focused on those selling high value, high dollar products and services – those that aren't impulse buys and can take months to even years for companies to purchase. It is not a marketing book, meaning it doesn't walk you through the process of choosing a target market, differentiating your firm from others, or the tactics involved in implementing your marketing campaign. It does, however, focus on the second part – once you are in front of someone, how do you get commitment from them to buy your services?
The main theme of the book is to listen and ask questions. To leave your scripts and ego behind and focus solely on the person you are talking to. The more you can get them to talk about their problems, the better you can address their concerns, thus shortening the sales cycle and beginning a relationship built on mutual trust.
The SPIN Selling process describes the four stages of a sales call. These include:
Preliminaries – the first few minutes of your introduction
Investigating – uncovering needs and understanding how your prospects make decisions
Demonstrating capability – showing that you have something worthwhile to offer them
Obtaining commitment -Sometimes, this is the purchase, though it might also be to speak to someone higher up in the company, to have them attend a seminar you are giving, or agree to a product demonstration.
It then walks you through a process of asking open ended questions to get at the heart of your prospect's problem and find out what the driving factors are for his problem, how severe it is, and demonstrate how your product or service can drastically help him.
To do so, it focuses on 4 different types of questions that you can use while talking to your prospect:
Situation Questions – These are basic data-gathering questions about the company.
Problem Questions – These questions explore some of the dissatisfactions and difficulties your prospect might be having where your product or service might be of value.
Implication Questions – These questions take the prospect a step further and focus them on what the future will be like if their current problems continue. They are used to get the prospect thinking about how serious or urgent their current problem is and the consequences of not fixing it now.
Need-Payoff Questions – These questions lead prospects into telling you the benefits your service or product could offer them.
The best salesmen use lots of need-payoff questions and forego the cheesy closing techniques often taught in the innumerable sales technique books out there. In fact, according to Rackham's research, the emphasis on using many types of closing techniques as often as possible during your conversation with your prospect is actually dead wrong. Those who use less closing techniques actually closed more sales! And this was the repeated result through numerous studies!
Another interesting thing Rackham points out is that the focus on objection handling is incredibly over-hyped. Skilled salesmen actually strive for objection prevention, not objection handling. That means asking enough questions to uncover and address the prospects' motivations and concerns before you even get to the stage where you describe your services – before they have the opportunity to object.
The bottom line is that if you're looking for a book to improve your selling effectiveness, this is one of the best books to read. It is research based and professional – focusing on your prospects' needs and concerns rather than memorizing scripts and handling an onslaught of objections.